Sila New Cairo
compound sila new cairo by misr italia real estate has announced recently for its newest phase "sila new cairo" which became recently an attraction area for investors and clients. It offers different housing units of villas and apartments with different areas
sila new cairo planned to be designed for the entire family and providing you a quality time to spend to get rid of your busy life .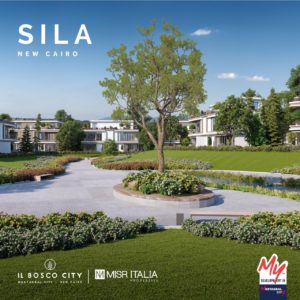 Misr Italia Properties is launching new project
SILA New Cairo Nature like details
Pedestrian Green river that spans for over 2 Km
Mixed-use zone
Cultural hub
School
Medical center
Sports club
Commercial zone
Community centers
3 Bedroom Apartment Start price 1.53 million
2 Bedroom Apartment Start price 1.13 million
1 Bedroom Apartment Start price 1 million
Apartments start price per meter: 10,150
Apartments Average Price per meter: 11,250
Stand-alone Type C – BUA: 321
Average 7 million
Twin House – BUA: 257
Average 4.6 million
Town House – BUA: 239
Average price 4.1 million
Core and shell
0% Down payment over 10 Years
Misr Italia Real Estate :-
Misr Italia has all the capabilities and resources to achieve the company vision and development plan for the project .
Misr italia is a diversified real estate developer that provides varied projects suited for the different market segments starting from economic housing , second homes , luxury , villas and office spaces .
Misr italia merges the best of domestic and international trends to deliver projects tailored to Egyptian families , youth and business owners .
What makes SILA New Cairo a smart choice ?
sila mostakbal city phase considered to be the latest phase and a successful extension for il bosco city
sila misr italia planned to be a revolutionary concept to be implemented in the Middle East and North Africa for the first time
sila misr italia is a fully integrated phase features a variety of apartments and villas with different areas
In SILANew Cairo , you are in no need to go outside the compound as you will enjoy different amenities , entertainment, medical and commercial services
Architectural designs in SILA New Cairo harmonize with the green nature creating a likely atmosphere and introducing a new concept of residence and real estate investment .
Error: Contact form not found.
book now in sila new cairo