scene 7 new capital
scene 7 new capital by akam developments Seeks to be the leading company that contributes to the success of the real estate sector, and to be one of the fastest growing real estate developers in the Middle East. Starting from Cairo's New Capital.
Akam always excels in all its projects aiming to become the leader of innovation in real estate development, Akam offers the highest return on investment to its customers, investors, and clients.
Providing a unique state – of – the – art residential community while addressing the priorities of its customers and partners. In collaboration with the largest real estate developers in the Middle East. Akam is proud to have a reliable track record and a strong history in real estate development.
Offering exceptional qualty and a unique experience to its customers in every project. Akam Consists of an alliance of experiences between three entities; The two Egyptian entities are Benayat for real estate investment and Residence Development for real estate and tourism invest ment, The third entity is Al – Muhaid Group. A Saudi Arabian company.

scene 7 new capital is a graceful flutter through life, a residential – sports project that is transcending a lifestyle that best fits you. We created a life that caters to those who love to move, for those who enjoy life to the fullest and for those who wanted to embrace life in proximity to the comfort of their home. We created a perfect scene for you, the scene of 7.
scene 7 akam developments is a new perspective in the New Capital, a set of eyes for the perfect scene. A dream of a functional integrated complex. The story behind the name focuses on the Scene of 7. Distributed over the corners of our project r 7 new capital elements, these elements will always be in your scene wherever you look. Your view will always be; sublime, serene, safe, soothe, suitable, spacious, and spirited, These are all aspects we have included in our project to personify your lifestyle within one project.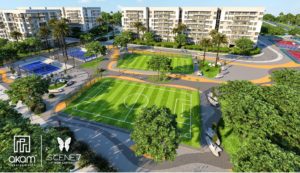 The Greener the Setting the more the relief … We designed the heart of our project to emulate the elegance of style with our exclusive clubhouse with all its unique facili ties and the green areas that bring you an utmost relieving and relaxing mood. Carefully orchestrated harmony to create your perfect scene. Soothe

Luxury is in every detail … Imagine a home that brings you luxury in design, spacious in its layout, and comfortable in its setting. All overlooking a view that rejuvenises your soul and reconnects your senses. Designed specially to cater your every need. Sublime
Safety does not happen by accident … We've aim to provide a safe and secure environment where, the priority of having your loved ones safe and sound is unne gotiable. In – turn we designed our project to feature all roads on the outskirts of the project, shifting traffic to be far from the footprint of the project. Safe
If you were born to be a player, then you are meant to be here We are your catering living quarters with a top – notch sporting complex that will change your lives. No more driving between different locations for trainings, worrying about your loved ones or even missing out on life. Our Sports Zone will feature Egypt's top academies in all sports, and only a walking distance from the comfort of yapur home. Fixating CCTV cameras throughout all sports for you to monitor your kids during practice remotely, giving you time to relax and focusing on you. A safe environment for all to practice their dream sports. Spirited
Take short walks in the park down a happy trail … Our pedestrian plazas are structured to create an unmatched experience. The brief walks in the parks and the wonders we built are all to transcend your mental state to bring you happi ness. A joyous experience for a happy life. Soothe
To going out and doing new things … Our state of the art commercial zone will feature your favorite brands, from clothing to food to coffee and so much more. Building a life, closer to you. Suitable
family is the heart of your home … Our pocket parks are fully suited and designed to cater to you and your family. A place where you can enjoy an endless set of activities and enjoy the quality time, you so desperately need. Make your days better and change your life. Serene
Sometimes nature is all you need … Our outdoor areas are exactly what you need on a weekend. BBQ areas with a splendid view of endless green spaces, beautifully designed swimmable lakes, and the fresh breeze. An escape from your busy days. Spirited
Master plan scene 7 new capital

Floor Plans scene 7 new capital



Payment & Prices
Prices scene 7 new capital Start from 10,400
0% DOWN PAYMENT & UP TO 10 YEARS PAYMENT PLANS

APARTMENTS RANGING FROM 144 SQM UP TO 235 SUM

INTERESTED IN SCENE 7 NEW CAPITAL ?

Leave your contacts and a Scene 7 property advisor will get in touch with you soon.

Error: Contact form not found.