Aliva Mountain View Compound is the latest project of Mountain View Real Estate Development Company, located in Mostakbal City in the heart of New Cairo. The compound extends over a large area of 638 acres, with a large portion dedicated to green spaces and gardens. It includes luxury residential units with distinctive finishes, making it an integrated luxury residential complex.
ALIVA MOSTAKBAL CITY
Created by Kholoud Elkilany
Owner Mr. Amr Soliman
Mother company DMG
DME (Dar EL-Me3mar engineering) infrastructure DMC (Dar EL-Me3mar construction)
DMA (Dar elm3mar architecture) designee + callison RTKL (mv/Emaar /Talaat Mustafa/Masr Italia) since 89
Curve (land scape)
MV life (facility management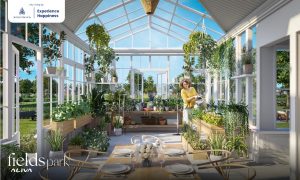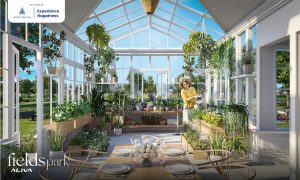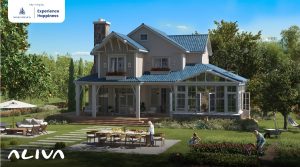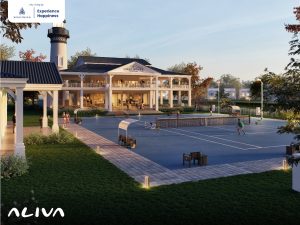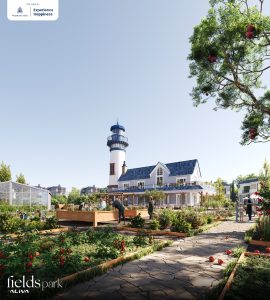 Location Aliva Mountain View
Aliva Mountain View Compound enjoys an ideal and distinguished location in eastern Cairo, away from the noise of Mostakbal City. The most important features of the location are the following:
Close to Suez Road
Near Al-Rehab City
Only 5 minutes away from Madinaty project
Close to other distinguished projects, including Bloomfielder, Hub Town, and City of Odyssia
Only 5 minutes away from the New Administrative Capital by car
20 minutes away from Cairo International Airport
Area
The compound extends over a large area of 638 acres, a large part of which is covered by gardens, as it includes six distinct gardens. The compound was designed in a way that provides privacy for residents by providing spaces between units, and includes units of various shapes and sizes as follows:
Independent villas ranging in size from 260 to 340 square meters
Millennial apartments ranging in size from 125 to 155 square meters
iVillas ranging in size from 190 to 250 square meters
Townhouses with areas starting from 210 square meters and up to 220 square meters
Services and Features
Aliva Mountain View Compound provides all the entertainment services that make life inside enjoyable and comfortable, as follows:
Many gardens between the residential units provide distinctive views for everyone
A large number of professionally distributed swimming pools with designs to suit all ages
Fully equipped tennis, basketball, football and football courts
Sports and social club
A luxurious clubhouse providing distinctive entertainment services
A health club that includes a gym, spa, and jacuzzi with the highest level of equipment
Surveillance cameras are spread everywhere and operate with the latest technology
Covered garages for cars with perfect insurance
Backup power generators for emergency use
Fast internet service
Dedicated trails for running, walking and cycling
Distinctive planning of the compound's streets makes the exercise paths far from car roads
Security gates, 24-hour security and guarding service
Maintenance services for all units
Cleaning services and safe waste disposal
Medical clinics, treatment units and 24-hour pharmacies
Nurseries for children
Recreational areas designated for children with comprehensive insurance
A large shopping center that includes stores and boutiques selling the latest and most famous international brands
A large number of international cafes and restaurants serving delicious cuisine
Prices and Payment Systems
Aliva Mountain View offers special prices to customers and here are the steps for the prices and reservation systems:
Apartment reservations are made by paying 20,000 Egyptian pounds
I Villa units are reserved by paying 30,000 Egyptian pounds
Townhouses and independent villas are reserved by paying 50,000 Egyptian pounds
As for the prices in Eleva Mostakbal City Compound, the indicators were as follows:
Price of residential apartments: starts from 4,600,000 Egyptian pounds
Duplex unit price: starts from 7,900,000 Egyptian pounds
Independent villas: price starts from 20,800,000 Egyptian pounds
Townhouse unit price: starts from 11,700,000 Egyptian pounds
Easy payment plans were also announced, starting with paying 5% of the unit price in advance, and the rest of the amount is paid in equal installments up to 8 years, and the units are delivered beginning in 2027.
Owner Company and Previous Works
Aliva Mountain View Compound is the latest residential project by Mountain View Real Estate Development Company, one of the largest real estate companies in Egypt and the Arab world.
The company is known for its great experience and long history over many years, during which it presented many strong and successful projects, as it began its work in Egypt since 2005.
Mountain View seeks to provide advanced projects that provide a luxurious residential environment, relying on its expertise, advanced tools, experts, engineers and technicians who have many years of experience with skill and mastery.
The company has presented many distinguished projects, including the following:
Mountain View Compound in New Cairo
Mountain View iCity, Fifth Settlement
Rhodes Mountain View North Coast Village
Mountain View Resort Ain Sokhna 1
Mountain View Sokhna 2 project
Scala Mountain View North Coast Village
Mountain View Hyde Park project,