About vinci new capital
Every one of us has many dreams which force us to seek any way to achieve it. These dreams are as marrying from a good woman and live with her in a perfect home with good neighbors. So, we establish a perfect home for you in our new project which called Vinci new capital. After the great success which we had achieved by establishing IL bosco project, we established this new project for you too.
We will embrace the elegance, sophistication and lush conceptualization in Vinci project. You will enjoy the sunlight which will enter through your window. Misr Italia creates an excellent opportunity for you and your family to have a very special world.You will get high living standards in our new project which is one of the best urban residential areas. This project will be established on a wide area which is about 110 acres.
vinci by Misr Italia
Misr Italia established this great project. This company is one of the greatest companies in Egypt. It is a leading real estate developer in Egypt.They aim to change the concept of the ever-growing real estate market.It established many villages and industrial cities.
These villages distinguished by their beauty and luxurious design. Misr Italia established the village of Moses Coast which locates in Ras Sudr. It built also the Compound of Lanova Vista which exists in the fifth assembly.It made also a lot of projects in Egypt.
We Begin with economic housing projects, small to medium-sized factories and luxurious residential properties and tourism resorts. Misr Italia is committed to introducing further projects ideal for the Egyptian market.It combines the best domestic and international trends to deliver projects to enhance the lives and experiences of Egyptian families, youth and businessmen.
vinci new capital master plan
This project is highly designed to be a perfect place for customers who seek luxury and harmony. This project is distinguished by its modern architecture, the remarkable minimalist design, the ethnic elements, material surfaces which reflect a sense of balance and harmony to all the residents.This project is designed by the great engineer Hani Saad. He is responsible for designing exterior and interior landscape for all units. The customers can find a wide range of buildings in Vinci new capital. They will find apartments, Villas, Twin and Townhouses.
The spaces of buildings start from 120 meters to 750 meters. You can choose between fully finished and unfinished apartments.You able to choose the design with engineer Hani Saad with extra fees. There is also a club house where you can play with your friends.
Units available in vinci new capital egypt
FRONT FACADE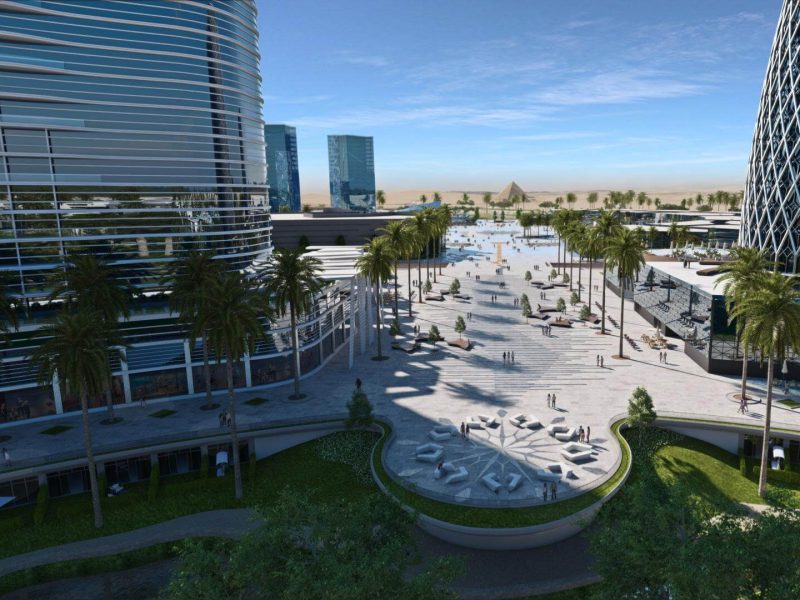 Vinci new capital Location
This project is located in the best location in the new capital. It is located also on the main road, beside talaat Moustafa and bosco project. This project overlooks to the green river. It will also be located in theR7 district which is near to the presidential palace. It situated amongst exclusive resident districts and connected to the main lines of transportation. Vinci new capital locates besides very important landmark places as the Opera House, the diplomatic district and Cathedral church. You can find Vinci new capital in Front of British university.
Vinci new capital owners will enjoy with a lot of services and facilities. These services and facilities include enjoying with the outdoor pools. There are huge lakes which will make you enjoy in every moment of your life. You will get daily and monthly newspapers while you are sitting in your home. There is a club house where you can do any sport you want in it.
You will find Spa and beauty salon. There is main restaurant and coffees where you can eat and drink a lot of things. You will find sports area where you can practice yoga,boxing, tennis and football in it. There is a 24 hour security. You will find public gardens where you can breathe fresh air with your family.
Payment & Prices
Prices vinci new capiat Start from 10,500
10% DOWN PAYMENT & UP TO 9 YEARS PAYMENT PLANS

Villas & Twin Villa &Townhouse & APARTMENTS RANGING FROM 103 SQM UP TO 191 SUM
INTERESTED IN VINCI NEW CAPITAL ?
Error: Contact form not found.