Project keeva 6 october Prime real estate developer Alahly Sabbour is came back in 2020 bringing the Modern Countryside life to 6th of October city with its newest project " keeva 6 october " in 6th of October city after 10 years for its last projects in October city
What is keeva 6 october ?
keeva 6 october is a luxurious residential project stretched on an area of 144 acres in a unique location in 6th of October city close to everything you care about , this huge area gives you a project integrated with everything you search for , you will find everything in KEEVA that did not let you go outside the compound to satisfy your needs.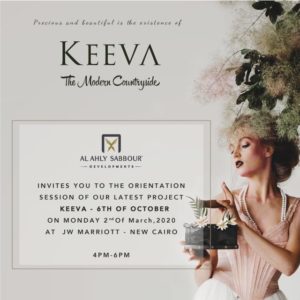 keeva 6 october means precious and beautiful , this exactly what Alahly Sabbour Development is delivering.it bringing you the beautiful countryside with the architecture and services of the modern city, this combination truly offers the modern countryside .
Keeva provides the elegance and peace of mind you deserve , this modern countryside offers you an array of living spaces where homes are crafted to become heavens .
keeva sabbour offers you the perfect life in its best pictures .
What does countryside life mean ?
Countryside focuses on natural beauty

The units looks out over a peaceful rural landscapes
keeva location:-
privileged a unique strategic location on the 6th of October city. It is located next to the neighborhood and vital places in October city , next to Dar Elfouad hospital and between Mall of Egypt and Mall of Arabia directly on the main road Dahshur road .
We cannot deny that any residential community its first choice depends on unique strategic location .
This unique location was a reason that the largest companies were racing against it .
What makes Keeva Location a perfect choice with good features ?
Educational service

that surround the project as you are in very need to university of Egypt and other major universities

Marketing service

, as you are very close to Mall of Egypt and Mall of Arabia

Health service

as you are near to the largest hospital in Egypt Dar El Fouad which provides global hea;th service .
What is Al Ahly Sabbour's vision in the KEEVA project ?
Alahly Sabbour's vision is to create outstanding new houses in excellent locations for people to enjoy now and in the future . It understands that buying a new home can be a momentous and emotional decision. That's why its new home are well-designed, carefully planned
Many of the homes in this development benefit from their own distinct outlook of sweeping countryside views and there are green open spaces throughout.
keeva october amenities / services
Clubhouse

Shops

Restaurants / cafes

Swimming pools

Security and guarding system

Entertainment areas

landscapes
KEEVA building and areas :
–
It offers limited luxurious types of units , villas , lofts , town house , townhouses and apartments with different areas .
Villas areas :- starting from 260 m² up to 330 m²
Townhouses areas :- starting from 225 m² up to 265 m²
Apartment areas :-
2 bedrooms areas:- starting from 118m² up to 122 m²
3 bedrooms areas;- starting from 154 m² up to 158 m²
keeva payment plans :-
5% down payment , equal installments up to 8 years

10% down payment , equal installments up to 9 years

15% down payment , equal installments up to 10years
In keeva compound, you can own your unit in a strategic location on the 6th of October city in the most prestigious residential community , you will enjoy privacy and excellence .
Error: Contact form not found.
book now in keeva 6 october