Cavana springs – Sarai
Cavana springs is considered as a new phase of the unique project Sarai new cairo by Madint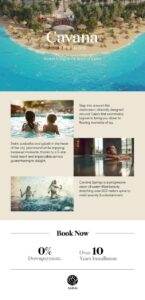 nasr for housing and developing . it's where luxury, convenience and joy come together.
Madint nasr for housing and developing
Madint nasr for housing and developing is one of the leading real estate development
companies in egypt found in 1959 as a public real estate company .
MNHD has developed mega projects and infrastructures across egypt , serving the needs of
thousands of middle income Egyptians with the help of a capable team of over 450
professionals

What is Cavana Springs – Sarai ?
it's a gated compound to provide high security for residents and with an amazing hotel
Cavana springs provide you with all the services you may need as a property owner and helps
you to get the luxury of becoming members with the hotel's exclusive array of benefits .
Cavana springs gives you the experience to live your own luxury as it has all what you are
looking for .
It's where unlimited water activities are offered all year and enjoying breathtaking views from
your dream home .

Location :-
In cavana springs , you are invested in the best location, minutes from city corners , 15 mins
away from the ring road , 10 mins away from AUC campus and 5 mins away from the new
capital city , madinty and golden square
Buildings
In cavana springs you can enjoy the elegance and Tuscan architectural designs for the
buildings , it offers you different sizes of villas, twin houses and townhouses which reflects
spacious simplicity and unparalleled elegance
Amenities :-
Cavana springs offers you different service to provide joy and satisfaction
❏ Hotels and hotel services
❏ Medical center
❏ Security and guarding system
❏ Club house
❏ Kids area
❏ cafes/ restaurants
❏ Walking areas
Features :-
Cavana springs featuring watersides , walk ways , vast green landscapes and blue water
streams and overlooking Cairo's biggest lagoon .
Payment plans :-
You can enjoy cavana springs in sarai services and features with zero% down payment and
installments up to 10 years
Error: Contact form not found.
Also view strip mall sarai