Downtown city edge
City edge is launching soon new phase " Downtown new alamein " in new alamein city
It will be distinguished by its fully services as residents will enjoy entertainment and academic services by the end of 2019 .
City edge development
City edge established in 2017, it strives to become the national brand for premium real estate development in Egypt .
City edge development feel it's its duty to boldly shape the future, a future with an Edge .
City edge developments is an Egyptian developer bringing forward perfectly designed residential community and mixed- use projects
What is New Alamein city ?
Alamein city becomes the most important spot in Egypt either for Egyptians or foreugners , it was highly noted by top investors and developers in the city , it successeded to become the north coast main future hub for tourism and investment demands worldwide .
Future of New Alamein city
It was announced that the number of towers in new alamein city has increased from 15 to 18 towers which mean more population moving away from the overcrowded main towns as the city should be an all year living destination and with a world tourism center on area of 20% it will attract enormous investment opportunities
What is Downtown new alamein ?
It's considered to be the latest phase in new alamein city, it stretched on area about 31 acres , it's divided into east and west phases each phase with commercial pedestrian pathway and a main plaza connecting the two phases.
It offers 1160 parking spots for residential units , 1148 parking spots for the retail units
The projects consultants are the well-known Essam Abaza & Sahar Attia and the contractor of the project is one of the most famous contractors in Egypt mr. Hassan Allam – CCC
Downtown new alamein
City edge development will have new phase launch soon , the first phase of the project includes 800 fully-finished residential units , it's stretching on an area about 48138 acres as new Alanein city targets to accommodate about 2 millions people .
It's considered to be the latest phase in new alamein city , it offers fully finished apartments with underground parking .
It offers 40 buildings ground +8 floors , starting areas from 110 m²and starting bedrooms from 2 bedrooms
Residents in this phase are so lucky because they will enjoy all the services of entertainment by 2020 as it already started working and in use in 2019 .
Also people who are willing to live in new alamein city , they will enjoy educational and academic service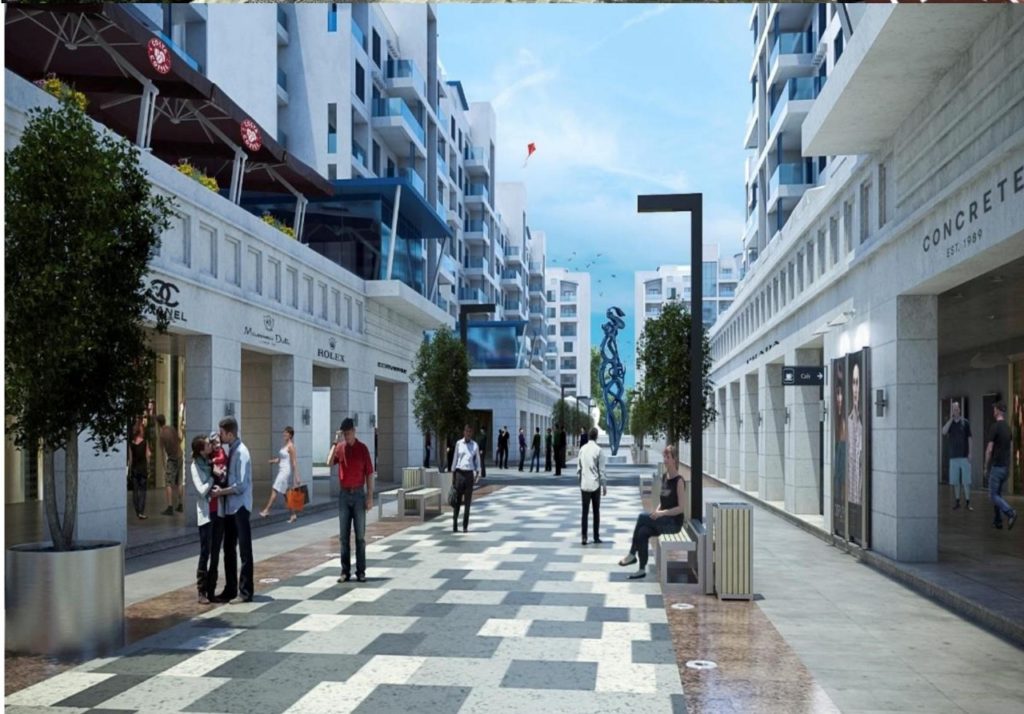 Buildings / areas
Downtown new alamein is offering fully-finished units with different areas starting from 110 m² up to 330 m²
Building floors :- two parking basement floors ( lower and upper basement )
Ground floor :- G+8 residential floors including penthouse , each building include 4 apartments / floor
Each building core contains
Two elevators
Two staircase
One garbage shoot
Amenities :-
Main lake
Central park
A mosque
A church
Roman theater
Opera house
Cinema
Complex
Kids area
Presidential palace
Commercial buildings and hotels
New alamein international university for science and technology
Alamein national university
Prices :- 20 000 L.E.
Payment plans ;-
5% down payment , installments on 7 years
Delivery time :– 2020
Why should i go for downtown new alamein ?
Apartment delivery date within one year by the end of 2019 which means ready to move within one year only
All buildings include retails plots under the residential units which mean residents can get their needs easily from
Design spaces flexible to modify the bedrooms which means you can add living area / dresses room
It's located in the right side from alex-matrouh road which means that downtown new alamein is located in the main focal point in new alamein city surrounded by all entertainment and academic services
The first residential plot in northcoast to have underground parking
Only 800 m to lagoon and 1.4 km to the beach .
Also take a look at taj gardens new cairo